Extraordinary And Plenipotentiary Ambassador Of Ecuador To The Kingdom Of The Netherlands
Ambassador Andrés Horacio Terán Parral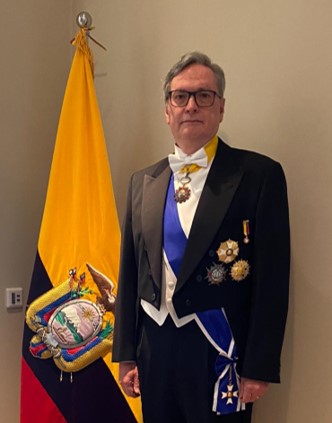 Ambassador Andrés Terán Parral is a career diplomat, with more than 36 years in the Ecuadorian Foreign Service.
In 1981 he entered the Ministry of Foreign Affairs as an administrative officer. In 1983 he began his diplomatic career as Third Secretary in the Department of Cultural Promotion and later served as Desk Chief for the United States and Canada, at the Americas' Direction. In the exercise of his work, he worked in the Undersecretary for Bilateral Affairs and in the Office of the Vice Ministry of Foreign Affairs.
In 1998 he was appointed Head of the Office of Diplomatic Coordination of the Vice Presidency of the Republic and in 2000 he began to perform functions as Chief of Protocol of the Presidency of the Republic.
In 2006, Ambassador Terán served as Legal Advisor to the Ministry of Foreign Affairs. In 2007 he was appointed Deputy Secretary-General of the Board of Directors of the Central Bank of Ecuador.
In 2008, he served as Chief of Staff to the Chancellor.
Throughout his career, he has held various representative positions in international forums. He has served abroad in the Embassies of Ecuador in Paraguay (1984-1989), Spain (1992-1997), Belgium (2001-2004), the United States (2004-2006), Uruguay (2009), Colombia (2009- 2011) and Canada (2011-2014).
In November 2009, he was entrusted with the task of reestablishing diplomatic relations with the Government of Colombia, at the level of Chargé d'Affaires, a.i. It was the first step taken by both countries in the process of restoring confidence -after an incident that occurred on the border between Ecuador and Colombia-, and participating in negotiating committees until relations were normalized in December 2010.
In March 2011 he was appointed Ambassador to the Government of Canada, where he served until December 2014.
In January 2015 he returned to Quito and served as Director of International Relations in the State Attorney General's Office and later in June 2017 as Director of South America in the Ecuadorian Foreign Ministry.
In June 2018, he was appointed Vice Minister of Foreign Affairs, Political Integration and International Cooperation, until October 2019 when he was appointed Ambassador of Ecuador to the Kingdom of the Netherlands.
Ambassador Terán holds a doctorate in Jurisprudence from Universidad Internacional of Ecuador.