MACRORUEDA
Details

Published on Monday, 30 January 2023 11:28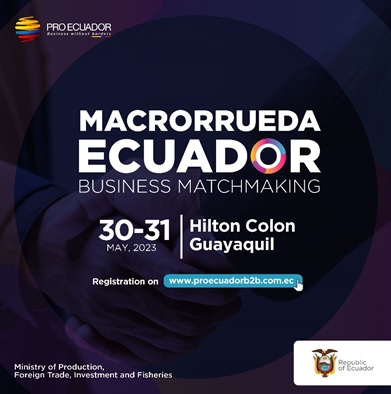 The Embassy of the Republic of Ecuador to the Kingdom of the Netherlands with the Trade Office –Proecuador- invites the Dutch business community to attend the 11th Business Matchmaking Ecuador to be held during the 30th and 31rst May 2023 in Guayaquil.
If you are looking to meet suppliers or new products, this Business Matchmaking is meant for you. It will gather the most important Ecuadorian exporters in a variety of fields who will satisfy the needs of the Dutch market and are also willing to find new partners.
If you are looking for exporters even producers of Cacao, Exotic fruits, Organic Banana, Fruit concentrate, Frozen fruit purée, Fruit juices, snacks, fishery products and Tourism among other, this is the right event to be.
 
Proecuador will facilitate the following package:   
1.    AIRFARE (economic class) – first come first serve (limited)
2.    Hotel covered – first come first serve (limited)
3.    Pre-scheduled B2B agenda
4.    Local visits to production facilities in case you are interested after the event
5.    Discounted rates in local hotels
6.    Food and non-alcoholics drinks during the event

The flight itinerary can be planned to allow you to arrive and depart Ecuador days before and after the event. Our goal is to offer you a custom-made program that meets your expectations according to the high quality standards of your company. The working language is English.  
It will be appreciated to receive a confirmation no later than 20th February.
MACRORRUEDA ECUADOR 2023 | ProecuadorB2B
Ecuadorian regards,